Assalamualaikum (:
Imagine, 5 movies in a week! Crazyyy? Or more to crazy BORED :P
Jack Reacher (
Tom Cruise
) is a homicide investigator in US Military was asked to investigate a case that seems similar with a case that he's handled once in Baghdad. The accused, James Barr (
Joseph Sikora
), requested Jack Reacher to investigate the case and work with his lawyer, Helen Rodin (
Rosamund Pike
). While investigating the case, Jack Reacher discovers a whole different side of story and can prove that James Barr is innocent. But he needs to go through a ruthless gangster who makes James Barr a scapegoat and have a different purpose of killing.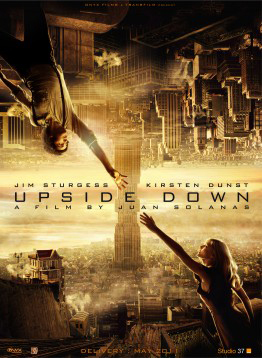 UPSIDE DOWN
(
♥♥♥
)
Adam Kirk (
Jim Sturgess
) from Down Below and Eden Moore (
Kirsten Dunst
) from Up Above fall in love with each other. They've been ambushed while dating at the forbidden territory and because he was shot,
Adam lets go of the rope Eden hangs on to which lands her on the ground with a bad head injury. Adam assumes Eden was dead. 10 years later Adam got to know that Eden is still alive and currently working at Transworld. Adam straight away applies a job in Transworld and after he got the job he tries to make Eden remember about their memories 10 years ago because Eden suffers with Amnesia.
Jeremy Coleman (
Josh Duhamel
) is a witness of a brutal murder, he's been threatened by the murderer, David Hagan (
Vincent D'Onofrio
), to not testify on court. He's been placed in the witness protection program under the watch of the US Marshals and been giving a new identity. David threatens to kill Jeremy's girlfriend, Marshal Durham (
Rosario Dawson
), his family and close friends. When Jeremy's new identity is been compromised, he's literally has no identity on file and decided to take justice onto David with help from Lieutenant Cella (
Bruce Willis
).
Artie Decker (
Billy Crystal
) just got fired from his dream job, and wife, Diane Decker (
Bette Midler
), asked to babysit their grandchildren because their only daughter, Alice Simmons (
Marisa Tomei
), wants to take a holiday with her husband, Phil Simmons (
Tom Everett Scott
). It's hard to look after their spoiled grandchildren, Harper (
Bailee Madison
), Turner (
Joshua Rush
) and Barker (
Kyle Harrison Breitkopf
), because they've been raised with a different approach. Artie's and Diane's

old school methods of tough rules, lots of love and old-fashioned games, finally worked.
THE PERKS OF BEING A WALLFLOWER
(
♥♥♥♥
)
An introvert freshman, Charlie (
Logan Lerman
), who suffers with depression after his bestfriend had committed suicide. He struggles to find where he belongs, but things began to change after he met Patrick (
Ezra Miller
) and his stepsister, Sam (
Emma Watson
) and Charlie started to fall in love with Sam. They started to hang out together in a group with Mary Elizabeth (
Mae Whitman
), Alice (
Erin Wilhelmi
) and Bob (
Adam Hagenbuch
) and Charlie's friends distracted him from remembering his dark past with his Aunt Helen (
Melanie Lynskey
).